This post was shared by the Friends of Westfield House. Rev. Dr. Jonathan and Rachel Mumme serve as LCMS missionaries in Cambridge, England, where Jonathan is an international tutor (professor) with Westfield House and Rachel works with the organization The Friends of Westfield House. Westfield House is the theological school for the Evangelical Lutheran Church of England (ELCE), an LCMS partner church.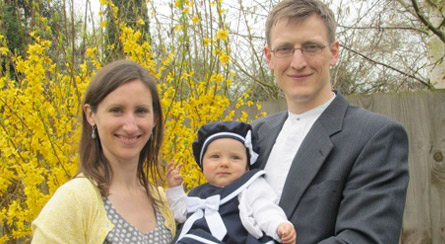 The Eberhard Karls University of Tübingen (Germany) recognised the completion of all academic requirements for the degree of doctor of theology for Jonathan Mumme, tutor for systematics and church history at Westfield House. He began work on the degree in 2006, under the guidance of Prof. Dr. Oswald Bayer, submitting his dissertation in June of 2011.
Mumme's dissertation, titled, "Die Präsenz Christi im Amt: Am Beispiel ausgewählter Predigten Martin Luthers, 1535-1546" ("The Presence of Jesus Christ in the Office of the Ministry: On the Basis of Selected Sermons of Martin Luther, 1535-1546") received high praise from Bayer, to which his oral examiners added their approval. Bayer writes,
"[Mumme's dissertation] is a systematically executed, in-depth examination of Luther's sermons in regard to his understanding of the Office of the Ministry. Mr. Mumme's work exhibits thoroughness and precision – both in how he handles the sources and in his careful and succinct treatment of literature relevant to the research. The lingual ability of the author, who learned German as a foreign language, is both noteworthy and admirable."
Though the university's regulations do not allow for official use of the Doctor title until publication of the dissertation, Westfield House and The Friends of Westfield House heartily congratulate Tutor Mumme on the completion of this degree and wish him the Lord's blessings on his continued service in the church!
We congratulate our LCMS missionary, Rev. Drs. Jonathan Mumme on this big step!

Support the work of Jonathan and Rachel Mumme in the United Kingdom.